Carl Myerscough Certifies on the Captains of Crush No. 4 Gripper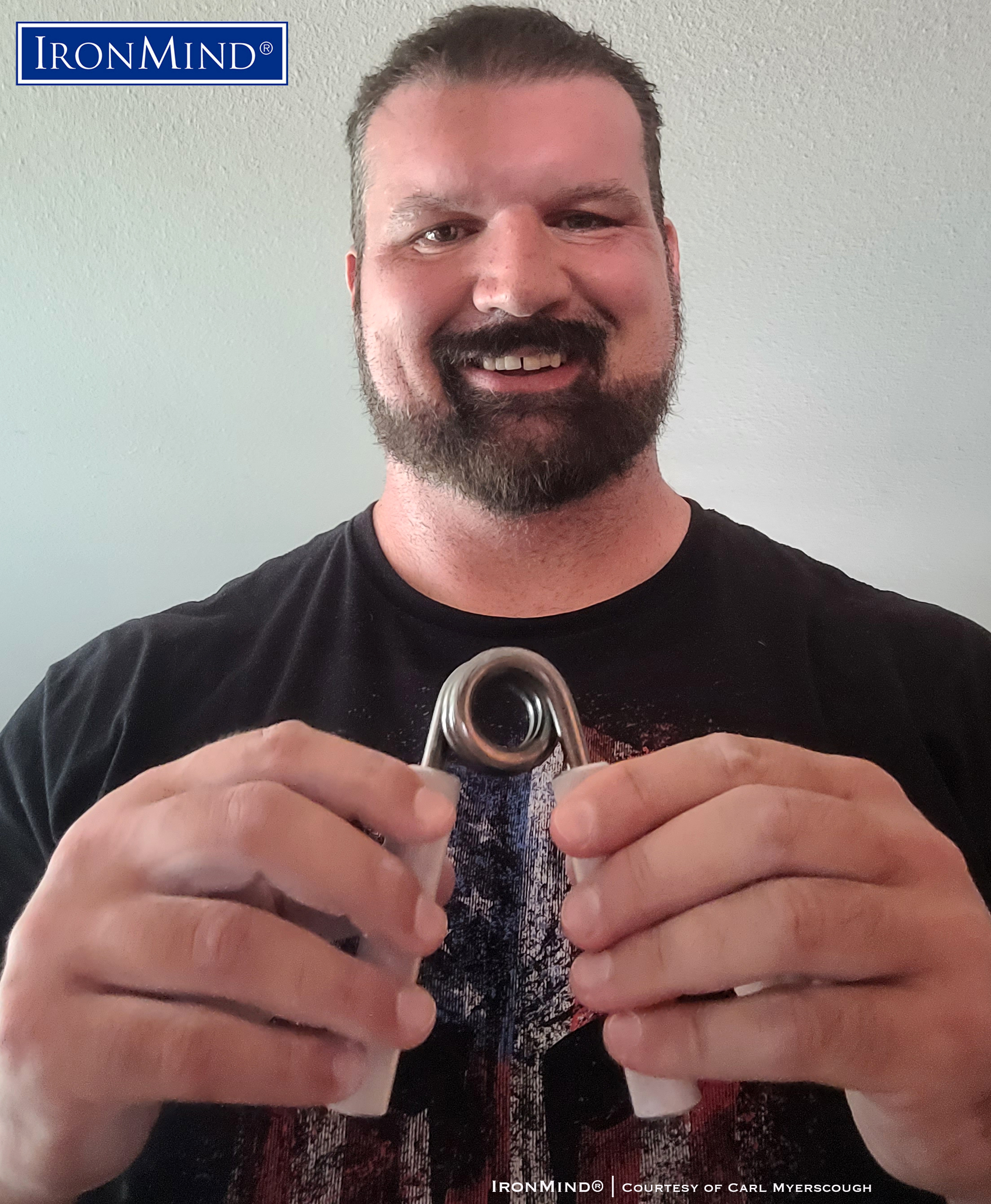 The subject of lore, envy and magnetic appeal, it's been a wait of almost 20 years since the Captains of Crush No. 4 gripper has been officially closed; and Carl Myerscough made grip strength history when he certified on this legendary test of hand strength with no ifs, ands or buts—all it took was an extraordinary measure of crushing grip strength.
Introduced by IronMind in 1994, the Captains of Crush No. 4 gripper has been the subject of lore, envy and magnetic appeal, and transcending the strength world, it has even appeared on the front page of The Wall Street Journal (WSJ). It was last closed officially in 2004 by no less than World's Strongest Man winner Magnus Samuelsson, but the drought has ended as Carl "The Blackpool Tower" Myerscough officially closed the CoC No. 4 gripper . . . with no ifs, ands or buts. Job well done! Myerscough is 43 years old, 6' 10" tall and weighs 340 lb. IronMind® | Photo courtesy of Carl Myerscough
Let's back up and remind everyone that Carl Myerscough is an Olympian, a world-class thrower (shot put and discus, and at 6' 10" his nickname, "The Blackpool Tower," is easily understood.
Myerscough was introduced to Captains of Crush (CoC) grippers when he was a student at the University of Nebraska, and he closed the CoC No. 2.5 the first time he tried.
"Along with his prodigious talent, Carl Myerscough brought his world-class athletic background to the table when he focussed on Captains of Crush grippers. His training knowledge and maturity were apparent from the outset as he thoughtfully, patiently and persistently worked toward his goal of certifying on the Captains of Crush gripper.
"Along the way, Carl had a couple of near misses on the CoC No. 4, as in what might be called two-red-lighters, and although disappointed, Carl took them in stride, continuing to train steadily and purposefully, and today everyone in the grip strength world can celebrate Carl's unparalleled success," said IronMind founder and father of Captains of Crush grippers, Randall Strossen.
Myerscough attempt was not without challenges beyond those posed by the Captains of Crush No. 4 in and of itself, as reflected in his comments when he submitted his official attempt for IronMind's review:
"Well it's done, swipe was good, gripper was closed and and everything stayed in shot leading up to the close.
"Not so good was that my bicep cramped/spasmed during the attempt, but fortunately not until the gripper was closed. I had hoped to stand in front of the camera and say a few words and thank yous so didn't get to do that as I was wincing in pain and thus didn't get to make the video I had planned.
"I have checked it several times and am confident [the] criteria were met. Thank you so much, Randall, for this opportunity and your kind consideration of my video," Myerscough wrote.
"After retiring from my shot put and discus career in 2016 I started training grippers. I set for myself the goal of certifying on the CoC No. 4 gripper, [and] little did I know how hard that would be. It's taken me 7 years to get to this point. Along the way I discovered armlifting and the other grip lifts, but always grippers were my main focus," Myerscough told IronMind.
"The hand strength I had to develop in this pursuit allowed me to last year get the Apollon's Axle world record and many other records along the way.
"During the last 4 years I lost my mom and dad. I promised my dad a short while before he passed that I would find a way and figure this out. My mom had dementia for many years and yet it was one of the later things she could remember and would ask me about, so for personal reasons the importance of the No. 4 certification was paramount to me. My dad had amazing grip strength, many feats of which I am yet to match, as did his dad, which was why he always had an interest in grip and hand strength.
"I have put my heart and soul into my crush [crushing grip] training and have been fortunate enough to develop a level of strength that at one time I could have only imagined.
"Thank you to IronMind for the great products and for creating for the world a challenge that I would compare to climbing Mount Everest without oxygen. Because you created this mountain, I had to climb it," said Myerscough.
Congratulations, Carl—they said it couldn't be done without smoke and mirrors, but you proved them wrong by figuring out the secret: you just have to be strong enough. Your name has been added to the official certification list for the Captains of Crush No. 4 gripper, recording your formidable mark in the annals of grip strength.
Here's a link to Carl Myerscough's official attempt to close the Captains of Crush (CoC) No. 4 gripper.
###


You can also follow IronMind on Twitter, Instagram and on Facebook.
Want to talk grip, strongman, weightlifting . . . everything strength? Visit the IronMind Forum.