Carl Myerscough Certifies on the Captains of Crush No. 3 Gripper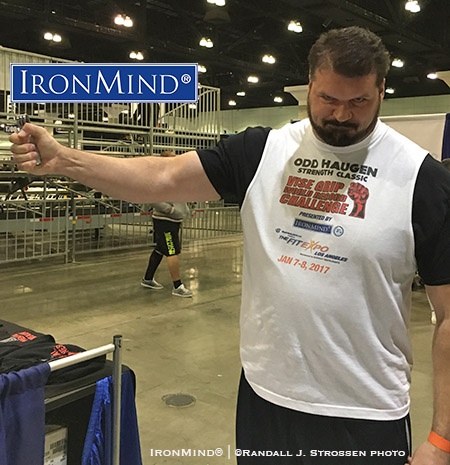 Carl Myerscough was world class in the shot put and the discus, and now the retired thrower has turned his sights to grip strength and has already posted huge results: with four months training on Captains of Crush grippers, "The Blackpool Tower" has certified on the No. 3, proving himself on this internationally-recognized standard of grip strength.

37-year old Myerscough says he's "some chaotic combination of stay-at-home Dad, personal trainer and artist. Threw the discus and shot for 23 years, retiring last summer. British record in the shot put at 71 ft. 11" in 2003 was my best performance. Training now to be fit and healthy, stay in shape and excited to participate in grip competitions for a new challenge.

"I could close a [Captains of Crush gripper] No. 2 the first time I tried . . . took me three weeks to close the No. 3. Would like to think I can do it any time, but usually do my reps and sets with the No. 2.5 at the moment to and resist too much testing out," said Myerscough.

Well, we inadvertently gave Carl a chance to prove he can do it pretty much any time, although we severely violated his good idea of not overdoing it on max attempts . . . here is what happened.

On Carl's first official attempt to close the fearsome Captains of Crush No. 3 gripper, he succeeded easily, but then his referee, in later describing the attempt to me, mentioned that he, not Carl, had held the card, so I said Carl had to do it again—holding the card himself.

Carl kindly obliged us, but I must have been brain dead from too many hours at an expo and didn't catch the fact that Carl had used a demo gripper from the IronMind booth, so, oh no, I had to say, Sorry, but we've got to do this again, using a brand new gripper.

Fortunately, Carl did not rip my head off and chuck it for distance, but, instead, rested a minute or two and did it all again: so even if things did not go according to plan, Carl proved that he can not only legitimately close a Captains of Crush No. 3 gripper seemingly at will, but he can also do it over and over again.

Congratulations, Carl—your name has been added to the Certification List for the Captains of Crush No. 3 gripper!
       
                                  ###



You can also follow IronMind on Twitter and on Facebook.                        



Want to talk grip, strongman, weightlifting . . . everything strength? Visit the IronMind Forum.