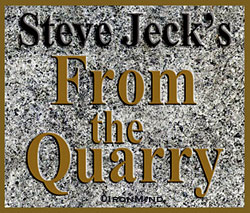 Inspiration from IronMind's man of pen and stone, Steve "Inver Stone" Jeck
Co-author Of Stones and Strength and The Stone Lifter
What You Believe

"Nurture your mind with great thoughts; to believe in the heroic makes heros."—Disraeli

Guaranteed formula for lifting success: 1. Log off right now. 2. Go to the nearest bookstore and buy Seamus Heaney's Beowulf. 3. Read it cover to cover. If that doesn't get you to the gym and hyped-up to hit a new PR, don't despair . . . there's always quilting and low-impact aerobics!
 ###
Editor's Note: Steve Jeck's books, Of Stones and Strength and The Stone Lifter; and videos, Kviahellan DVD, Jeck on Stonelifting video, and Classic Jeck: The First Works CD, define the world of stonelifting.


Looking for top-drawer training combined with a healthy dose of inspiration, including one-of-a-kind essays by Steve Jeck? MILO: Strength is for you.