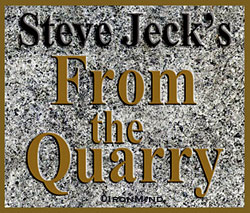 Inspiration from IronMind's man of pen and stone, Steve "Inver Stone" Jeck
Co-author Of Stones and Strength and The Stone Lifter
Knowledge is Power


  
We have all heard that knowledge is power.  Well, this is only part of the truth.  Knowledge is actually potential power, like that gallon of gas sitting in your car.  It only becomes power when it is organized, ignited, and acted upon.  In reflecting on the great thinkers, people are quick to quote Rene Descartes and his famous words, "I think, therefore I am."  But do you know what else he said?  "To be possessed of a vigorous mind is not enough.  The prime requisite is to rightly apply it!"
Turn the key and get moving. 
 ###
Editor's Note: Steve Jeck's books, Of Stones and Strength and The Stone Lifter; and videos, Kviahellan DVD, Jeck on Stonelifting video, and Classic Jeck: The First Works CD, define the world of stonelifting.


Looking for top-drawer training combined with a healthy dose of inspiration, including one-of-a-kind essays by Steve Jeck? MILO: Strength is for you.