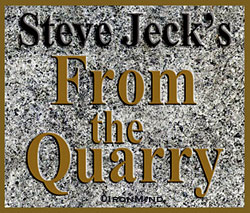 Inspiration from IronMind's man of pen and stone, Steve "Inver Stone" Jeck
Co-author Of Stones and Strength and The Stone Lifter
Hard Work

"Remember that the genius of success is still the genius of labor. If hard work is not another name for talent, it is the best possible substitute for it."—James A. Garfield 

We make all kinds of comparisons with those stronger than us—height, weight, wrist size, supplementation—when the only variable that really matters is are you sliding more plates on the bar than you had on there last month?
 ###
Editor's Note: Steve Jeck's books, Of Stones and Strength and The Stone Lifter; and videos, Kviahellan DVD, Jeck on Stonelifting video, and Classic Jeck: The First Works CD, define the world of stonelifting.


Looking for top-drawer training combined with a healthy dose of inspiration, including one-of-a-kind essays by Steve Jeck? MILO: Strength is for you.