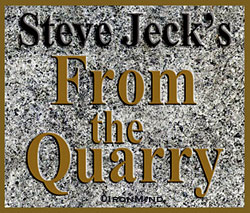 Inspiration from IronMind's man of pen and stone, Steve "Inver Stone" Jeck
Co-author Of Stones and Strength and The Stone Lifter
For Madmen Only

"He who would do some great thing in this short life must apply himself to work with such a concentration of his forces as, to idle spectators, who live only to amuse themselves, looks like insanity."—Parkman 

Lest I be misunderstood, just because I'm against drugs and wrapping yourself in material that lies about your true strength does not mean that I endorse a passive and mediocre path.  I've crossed an ocean more than once completely resolved to be shipped home in a pine box before a stone I'd come to lift remained landlocked.
It's not maniacal methods that irk me.  It's cheating that makes me mad.
 ###
Editor's Note: Steve Jeck's books, Of Stones and Strength and The Stone Lifter; and videos, Kviahellan DVD, Jeck on Stonelifting video, and Classic Jeck: The First Works CD, define the world of stonelifting.


Looking for top-drawer training combined with a healthy dose of inspiration, including one-of-a-kind essays by Steve Jeck? MILO: Strength is for you.