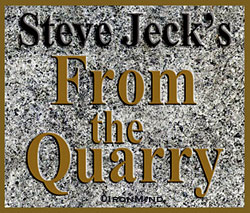 Inspiration from IronMind's man of pen and stone, Steve "Inver Stone" Jeck
Co-author Of Stones and Strength and The Stone Lifter
Conscience

"Labor to keep alive in your breast that little spark of celestial fire called conscience."—George Washington 

No one begins a journey planning to get off course.
No one revels in being known as a liar.
No one desires to have a lifetime of achievement nullified by law.
And no one need suffer any of the preceeding fates if they but heed the advice of the father of our country.
 ###
Editor's Note: Steve Jeck's books, Of Stones and Strength and The Stone Lifter; and videos, Kviahellan DVD, Jeck on Stonelifting video, and Classic Jeck: The First Works CD, define the world of stonelifting.


Looking for top-drawer training combined with a healthy dose of inspiration, including one-of-a-kind essays by Steve Jeck? MILO: Strength is for you.