Vidas Blekaitis wins MHP Log Lift World Championships 2015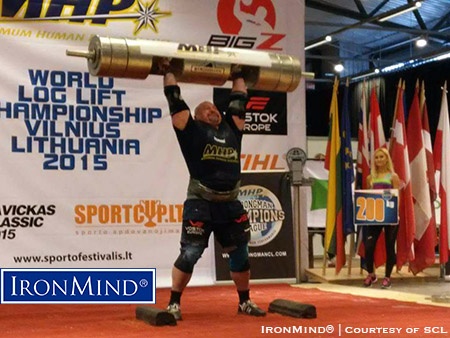 With Zydrunas Savickas sitting out the 2015 MHP Log Lift World Championships, the title was up for grabs—Vidas Bleikaits made a nice 200-kg lift and took home the title.


2015 MHP Log Lift World Championships
by Ilkka Kinnunen
Cofounder, Strongman Champions League (SCL)



The MHP SCL Log Lift World Championships took place last sunday in Vilnius, Lithuania. The competition was part of the sport expo organised by Zydrunas Savickas. This time Zydrunas himself did not take part of the competition, because of his busy schedule organizing the full expo, which pulled in around 15,000 people in two days. Zydrunas Savickas is the world record holder for the Log Lift,with a result of 228 kg

Vidas Bekaitis (Lithuania) took the title with result of 200 kg. Vidas lifted this weight on his last attempt—it looked very easy for him, and it seemed that he  could have gone much higher. Second place in the competition went to Krzyzsztof Radzikowski, who lifted 195 kg. Krzyzsztof also tried 200 kg, but the torn biceps he got in SCL Romania made the lifts very difficult.

Third was Latvian Dainis Zageris with result of 190kg.

Full Results:

1.Vidas Blekaitis Lithuania 200kg
2.Krszystof Radzikowski Poland 195kg
3.Dainis Zageris Latvia 190 kg
4.Matjaz Belsak Slovenija180 kg
5.Gregorz Shymanski Poland 180kg
6.Alex Moonen Holland 180kg
7.JF Caron Canada 175 kg
8.Marius Lalas Lithuania 170 kg
9.Oskars Martuzans Latvia 170kg
10.Aivars Smaukstelis Latvia 165kg
11.Martin Wildauer Austria 160kg
12.Markus Mannik Estonia 160 kg
13.Chris Gearing UK 150kg
14.Jon Olav Granli Norway 150 kg

                                                     ###



You can also follow IronMind on Twitter and on Facebook.                        



Want to talk strength?  Join the IronMind Forum.