Tiziano Becchio Certifies on the Captains of Crush No. 3.5 Gripper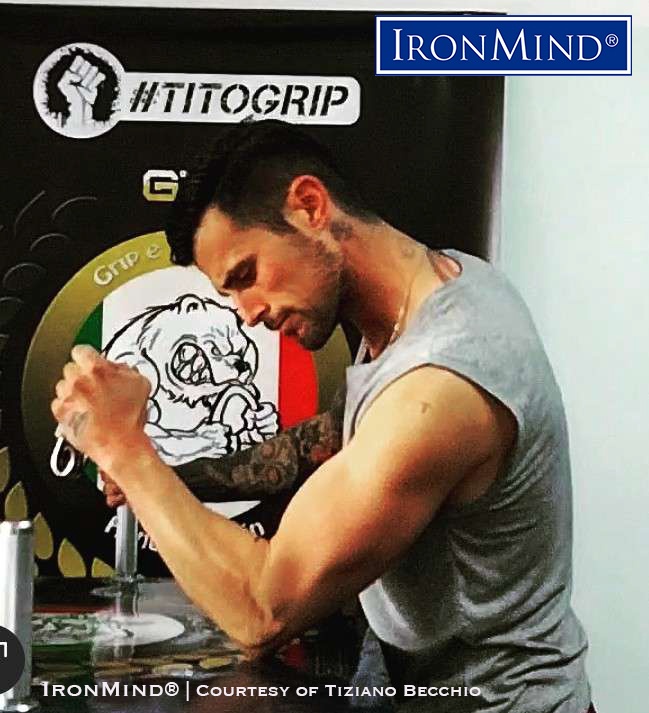 Tiziano Becchio, weighing a mere 63 kg (139 lb.), has certified on the Captains of Crush No. 3.5 gripper in a jaw-dropping demonstration of his monstrous crushing strength.
Tiziano told IronMind, "I have been training the CoC gripper [Captains of Crush grippers] since January 24, 2022 when I received the Powerworks Cannon pack. I heard about the CoCs from gripandbend Italia, and on the first attempt I closed the [Captains of Crush No.] 2.5 easily.
"I train grip 6 times a week, two heavy sessions looking for a top set plus back off, the other sessions are lighter in intensity.


"I am a full time truck driver I love my job, my hobbies are walking in the high mountains and being in contact with nature as much as possible, so my hands are not used much unfortunately. I love training with high intensities: I respond very well to this method and I'm not a fan of [high] volume. I'm looking for a top set of click reps in a row, and then I back off with pauses throughout the movement.


"I am very happy to have reached this milestone and I will try to raise the bar further, I have been wanting to achieve this certification for months: My biggest dream is to certify on the [Captains of Crush No.] 4 [gripper] and become the lightest in the world to do so."

Here's a link to Tiziano Becchio's official attempt to close the Captains of Crush No. 3.5 gripper.
###


You can also follow IronMind on Twitter, Instagram and on Facebook.
Want to talk grip, strongman, weightlifting . . . everything strength? Visit the IronMind Forum.