Spencer Tyler: Two World Records at the Queen Mary Highland Games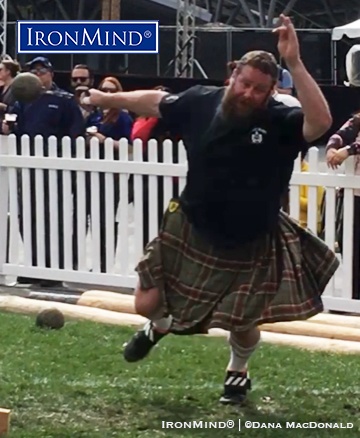 The longstanding Queen Mary Highland Games celebrated its 2019 edition by adding a professional class, and in honor of the occasion, top-ranked Spencer Tyler did himself proud by breaking two world records.

2019 Queen Mary Highland Games: Pros Compete, New World Records
by Francis Brebner
President, International Highland Games Federation (IHGF)
 
The Queen Mary International Highland Games this past weekend celebrated its 26th anniversary. Held in Long Beach, California, the games attracted more than 10,000 spectators over two days of traditional Scottish festivities, with more than 100 athletes taking part in the heated competition. 

The Queen Mary Highland Games was the first leg of ten qualifying games for both the women's and men's A groups in the IHGF All-American Highland Games series. For the first time, a professional class was added to the games and included top pro athletes from across America: Andy Vincent, Kyle Lillie, Spencer Tyler, Dan Tennison, Eddie Brown, Colin Dunbar, Gary Randolph, and Jon O'Neil.
 
Tyler, of Texas, the current number one ranked pro athlete in the world, has won nearly every major title in Highland games except the pro world championships. Not since the days of the legendary Donald Dinnie has an athlete accumulated so many pro titles, eight in all to be exact, which is staggering.
 
This past weekend Tyler established two new world records, starting with the 20-lb. sheaf over bar on the first day of competition, breaking his own world record of 36' 6" by 1", upping that mark to 36' 7". On day two in the 28-lb. weight for distance, Tyler unleashed a bomb of an opening throw of 97' 1/2"—incredible to watch as his footwork, timing and form flowed with the precision of a dancer.
 
The Queen Mary International Highland games was an exciting weekend of throwing, with the games field situated right in front of the Queen Mary ship, a unique and uplifting backdrop creating an electrifying atmosphere felt all around. In 24-lb. Braemar stone, Tyler dominated from the first round with world-class putts all over 45' and a best of 46' 10" for the win. Second place was a ding-dong battle between Tennison and Lillie, with Lillie going ahead at 42' 8" to Tennison's 42' 4-1/2".
 
In the 56-lb. weight for distance, Tyler opened with an incredible one-turn throw of just over 48', finishing his series with an amazing 51' 1-1/2" for a second win. Again, Tennison and Lillie fought for second, with Lillie marginally prevailing at 40' 4", leaving Tennison in third at 40' 3".
 
Tyler set a new world record in the 20-lb. sheaf over the bar: the only athlete left at 33', he asked for the bar to be raised to 36' 7", 1" over the current record, and with a mighty effort, he sent the sheaf sailing over the bar. Second place was Lillie with 30' and third, Tennison on countback at 27'.

Three athletes had held world records in the 56-lb. weight over bar: Vincent as an amateur doing 18' 1", Dunbar breaking the amateur record at 18' 6", and Tyler holding the current pro record at 19' 6", making for a dynamic contest. Dunbar and Tyler both cleared 18', and with the bar raised to 19', Dunbar took the win on countback, narrowly missing 19'; second place Spencer Tyler at 18' and third Tennison at 17'.
 
The final event of day one was the caber toss, an 108-lb., 18' 6" stick, where five athletes pulled out 12:00 tosses with the win going on countback to Tyler who nailed two 12:00s. Second was Lillie with 12:00 and 12:05, and third, Vincent with 12:00 and 11:50.
 
A revitalized group was eager to get back into the thick of things on day two, starting with the 16-lb. open stone. An electrifying event, the lead changed hands several times between Tennison, Dunbar, and Lillie, all putting over 55'. Dunbar, known as the American Highlander, lashed out a putt of 57' 2" using the rotational technique to take his second victory. Second could not have been closer, with Tennison edging out Lillie, 55' 6-1/2" to 55' 1/2".
 
In the 28-lb. weight for distance, Tyler opened with a world-record bomb of 97' 1/2". Lillie was second at 84' 2-1/2" and Dunbar third at 80' 1-1/2"
 
The final scoring event was the 22-lb. hammer, and Dunbar, two times in the Olympic Trials in the Olympic hammer and without using spiked boots to help maintain his balance, had a great series of throws with a best of 108' 11-1/4" for first place. Tyler followed at 106' 4-1/2", with Lillie in third at 105' 2".     
 
Overall places
Spencer Tyler 13
Kyle Lillie 22
Dan Tension 25
Colin Dunbar 26.5
Andy Vincent 45.5
Gary Randolph 47
Eddie Brown 50.5
Jon O'Neil 58.5
 
The Costa Mesa Highland Games will be the next major event, held in California in May, where the same group will once again go head to head—I predict ground records will tumble and the possibility of national or world records being established. 
 
The Men's A Group, competing in the first leg of the IHGF All-American Highland Games qualifying series, included John Anthony, Mike Baltren, Bryan Staggs, Sean Smith, Jackson Reeves, Zach Hernandez, Michael Perkins, Kyle Dubois, Patrick Colonnelli, and Mike Tupper.
                
Anthony conquered the field in the 22-lb. Braemar stone with a winning putt of 39' 2". Reeves just pulled ahead of Smith for second, 35' 7" to 35' 1".
 
In the 16-lb. open stone, the lead changed hands every round, with Anthony nipping Reeves for the win at 44' 7-1/2" to 44' 7". Hernandez was third at 41' 6-1/2".
 
The 28-lb. weight for distance was very close, with Anthony adding another win with 68' 6" over second-place Mike Baltren at 67' 4" and third-place Smith at 65' 2".
 
Anthony produced a bombardment of throws over 35' in the 56-lb. weight for distance, with his best at 37 '8" for the win. Baltren did 32' 6-1/2" for second and Staggs 31' 10" for third.
 
With four wins under his belt, Anthony was looking good for another, but in the light hammer, he was hugely surpassed by Smith with a rip-roaring throw of 115' 2" for first, leaving him in second at 111' 5-1/2". Third was Hernandez at 104' 9".
 
In the 22-lb. hammer, the tables were turned as Anthony as took hold of the reins, lashing out a nice throw of 92' 6" for another win. Second was Smith at 84' 2" and third Reeves at 82' 11".
 
In the 56-lb. weight over bar, three athletes cleared 14' but on countback Anthony took the win with fewer misses. Baltren was second and Staggs third.
 
Staggs's effort soared to 28' in the 20-lb. sheaf over the bar, with Anthony in second at 26' and Baltren in third at 24'.
 
With a 16', 80-lb. caber, five athletes nailed 12:00 tosses, but on countback Anthony captured his final victory, with Baltren second and Hernandez third.
 
Overall places
John Anthony 11
Mike Baltren 36
Sean Smith 40.5
Jackson Reeves 42
Bryan Staggs 42
Zach Hernandez 45
Michael Perkins 62
Kyle Dubois 65
Patrick Colonnelli 74.5
Mike Tupper 77
 
The woman's A group was vigorous and put on a fantastic competition with Felicia Baker prevailing over a field of four that included Kadie McMamara, Sefra Wilson and Annie Singer.
 
Both Anthony and Baker have qualified from their A groups for the finals of the IHGF All-American Highland Games Championships, to be held at the Great Plains Renaissance Festival in September. 
 
The IHGF would like to thank the SAAA for including the Queen Mary Highland Games as the men's and women's first leg of the IHGF All-American Highland Games qualifying series, and in particular, William and Cathy Ballard for all their hard work in making the athletics the best ever, with the inclusion of the pro category for the first time, and all the SAAA judges and officials, who did great work in making the Queen Mary Games a big success. The next in the IHGF All-American Highland Games qualifying series is the Phoenix Highland Games on 2–3 March.



                                                          ###

You can also follow IronMind on Twitter, Instagram and on Facebook.                        



Want to talk grip, strongman, weightlifting . . . everything strength? Visit the IronMind Forum.