Shahin Nasirinia in the US
The competition hall at the 1999 World Weightlifting Championships - in Athens - was absolutely packed: Jim Schmitz reported in MILO® that, "The largest crowd I have ever seen at the World Championships - about 10,000 - turned out and 96% of them were cheering for Dimas," who went on to win the 85-kg class . . . or did he?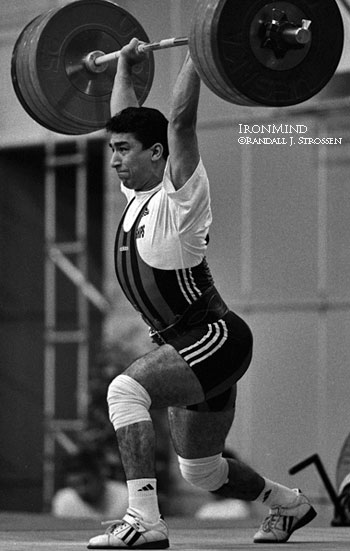 Shahin Nasirinia hit this 215 kg clean and jerk to wrest the 85-kg title from Pyrros Dimas at the 1999 World Weightlifting Championships (Athens). We later called it, "The upset of the contest." IronMind® | Randall J. Strossen, Ph.D. photo.
Dimas missed 212.5 kg twice, but no matter, he had the lead . . . but wait, there was one attempt left and it belonged to Shahin Nasirinia (Iran), who called for 215 kg and he made a lift that was never in doubt.

"We were ready for 220 if we had needed it," Nasirinia later told Randall Strossen, and based on the way he manhandled the winning 215, this was no idle boast.

In April, Nasirinia told Strossen that he was coming to the US soon, and yesterday he emailed to say he had arrived. We spent some time catching up on the phone - this personable weightlifter has been interested in moving to the US for some time, so we couldn't help but be very happy for him and his wife.

Is the US becoming a destination for weightlifting talent from around the world?

Welcome Shahin!