Rafal Kobylarz Wins at Trencin Castle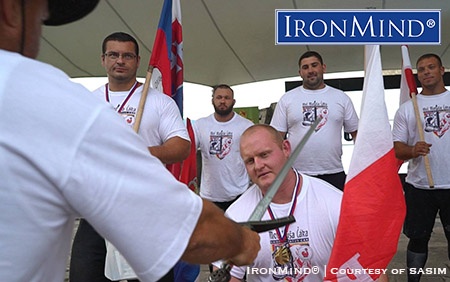 "Rafal Kobylarz won the sword Matúš Čák 2016!," SASIM General Manager Pavol Guga reported to IronMind.

"He won four of five disciplines and took the title at this historic event—the Trenčín Castle courtyard belonged to the Polish strongman, Rafal Kobylarz," said Guga.

Igor Petrík (Slovakia) finished second and Čestmír Sima (Czech) finished third.


Final Results
1.Rafal Kobylarz /PL/ 32b,
2.Igor Petrík /SR/ 30,5b,
3.Čestmír Šíma /CZ/ 25,5b,
4,Branislav Golier /SR/ 23,5b,
5.Nemanja Tasič /SRB/ 23,5b,
6.Volodymyr Cyfra /BLR/ 15,5b,
7.Ronald Knoll /AUT/ 15b,
8.Erik Karacóndi /HUN/ 11,5b

"Congratulations!," said Guga.

                                       ###



You can also follow IronMind on Twitter and on Facebook.                        



Want to talk grip, strongman, weightlifting . . . everything strength? Visit the IronMind Forum.