Mike Burke Crushes All Comers in LA FitExpo Grip Contest
Mike Burke delivered the single most dominating performance ever seen in the grip strength world as he won the Visegrip Viking competition at the LA FitExpo yesterday in commanding style.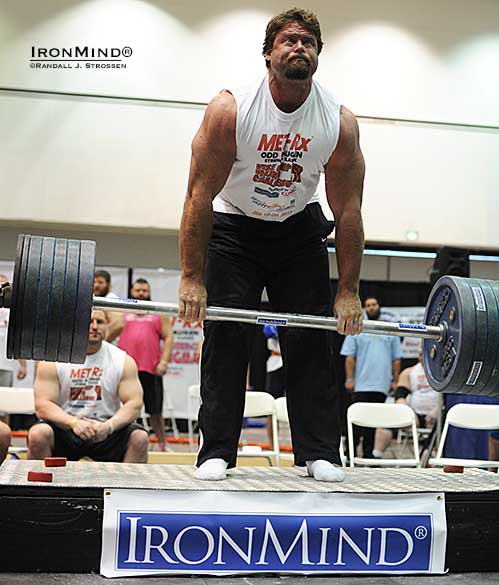 After demolishing the world record on the IronMind Apollon's Axle Deadlift not once, but twice, Mike Burke pulled 240 kg to knee height, signalling where he's planning to go with this lift.  IronMind® | Randall J. Strossen photo.



Burke left everyone's eyes wide open in the contest's first event: the IronMind Apollon's Axle Double Overhand Deadlift, where Rich Williams' longstanding world record of 501 lb. (228 kg) has proven tough for anyone to overtake.

Burke jumped from 485 lb. (220 kg) to 507 lb. (230 kg), lifted it with ease, but he dropped the bar so he was turned down; nonchalantly, Burke repeated the lift and lowered it carefully, for a new world record.  Burke would later say that he knew he wasn't thinking when he let go of it after completing the lift.  Since he had effectively done a double with a world record weight, how could one be surprised that Burke then called for 235 kg, which he hauled up for another good lift and another world record.  But wait, he wasn't done yet:  Mike Burke showed what's coming down the road because he then called for 240 kg and pulled it to about knee height before losing his grip on the bar.

While there was no new world record in the Rolling Thunder, Mike Burke and Mark Felix battled it out for top honors and hit very respectable performance levels: both men made 259 lb. (117.5 kg), but missed 270 lb. (122.5 kg). 

The world record in the IronMind CoC Silver Bullet Hold has been attacked by top grip strength competitors worldwide in the last year, and coming into this competition the record of 52.49 seconds by Alexey Tukalov appeared lofty indeed, but then, with former world record holder Mark Felix in the field and rumors that Andrew Durniat and Chad Woodall were ready to rewrite the record book made one wonder. 
And talking about wondering, how would Mike Burke do—he's never attempted certification on a Captains of Crush No. 3 gripper, and here he was in an event where he had to use a CoC No. 3 to hang on for time, but that's exactly what he did—posting a time of 53.97 seconds for his second world record of the day.  Anyone who had seen Burke perform in the 2012 edition of this grip contest knew he was a force to be reckoned with, but now he was starting to look invincible.  Durniat was second, at 32.95 seconds, and Woodall was third, at 30.41 seconds.

Next up was the Iron Grip Pinch Medley and out of the 12 competitors, 8 were stopped by the fifth of the six blocks that had to be lifted onto low platforms using a pinch grip.  Odd Haugen and Chad Woodall made it through five, only to get brick walled by the sixth, which was starting to look impossible, until Mark Felix brought down the house when he succeeded in loading it.  But wait, who's this coming out, the final competitor?  Mike Burke; and while Felix has loaded all six blocks in 32.24 seconds, Burke swept up all six in 15.02 seconds!

The Viking Fishing Pole Wrist Roller uses an IronMind Vulcan Rack/One Wicked Wrist Roller setup to wind up a large fishing pole with weight hanging off its tip—it's a screamer to watch and not all competitors could fully raise the pole.  To put things in perspective, of those who succeeded, it took some guys about half a minute, or more, to complete the job.  Mark Felix got third, with a time of 10.53 seconds, Chad Woodall was second, with a time of 8.95 seconds, and, you should know his name by now, Mike Burke won the event with a time of 8.41 seconds.

Odd Haugen had introduced the idea of deadlifting a replica Thomas Inch dumbbell for reps with a 2-minute time limit and coming into the contest, Andrew Durniat's 17-repetition performance from last year's contest was considered to be the world record.  Kiss that one goodbye as Haugen knocked off 22 reps, Mark Felix did 23, Durniat did 30 and, yell it out loud, Burke did 37!  In the end, it looked like Burke's back was fatiguing at least as much as his hands, so as big as that number was, 37 reps didn't really seem to reflect the limit of his grip strength on this type of implement.

So there have it: the world's top grip contest made it clear that if there's a current king of the grip strength world, his name is Mike Burke.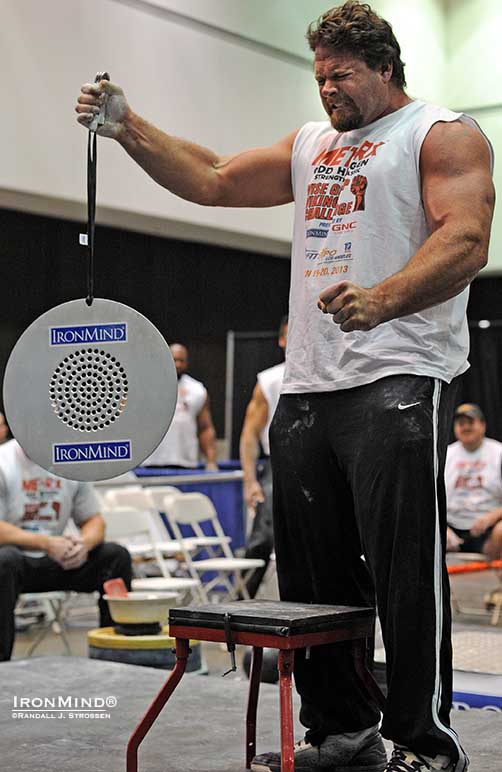 Mike Burke held the CoC Silver Bullet for 53.97 seconds, for a new world record.  Burke produced a sensational performance in the Visegrip Viking contest at the 2013 LA FitExp.  IronMind® | Randall J. Strossen photo.

 

                                                                     ### 



The IronMind Forum: discuss this article, talk strength, get help with your training. 

You can also follow IronMind on Twitter.