Memorial Day Sale: Save 15% at IronMind!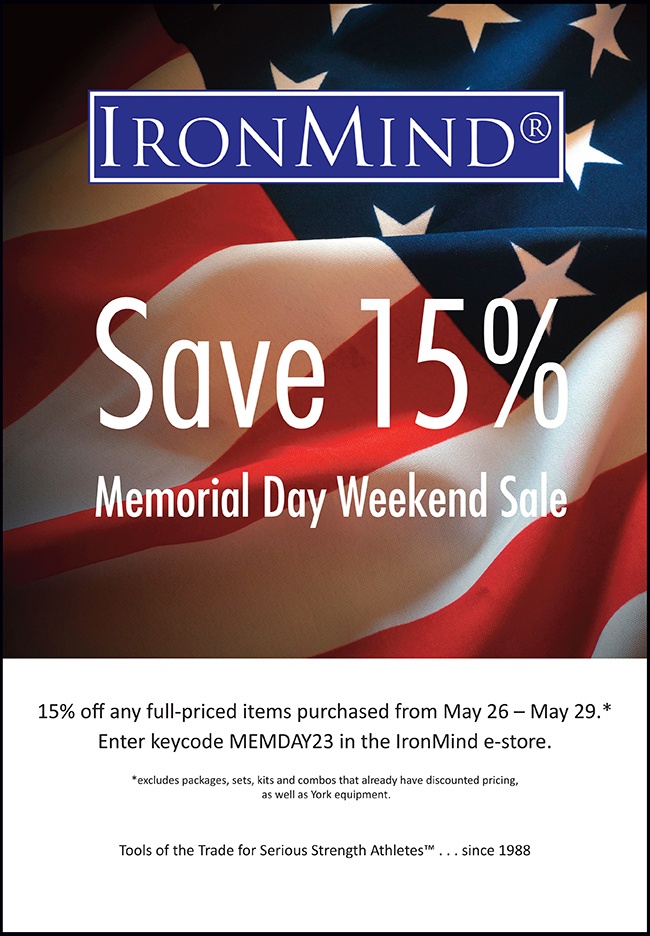 Shop at IronMind throughout the Memorial Day weekend, from May 26 – May 29 and save 15% on full-priced IronMind equipment.
Build your home gym with Vulcan Squat Racks, Apollon's Axle, Buffalo Bar, Pillars of Power, and Five Star Flat Bench. Want to be a grip star? Get the Rolling Thunder, IronMind Hub, Little Big Horn, or Go-Really Grip Machine. How about IronMind's Tough-As-Nails Sandbags and Gym Bags, Strong-Enough Lifting Straps, or the SUPER SQUATS Hip Belt and Headstrap Fit for Hercules. And don't forget Just Protein®, to help turn all your hard training into added might and muscle.
Order anytime during the entire holiday weekend, May 26 – May 29, and use keycode MEMDAY23 at View Basket to receive the 15% discount.
Questions? Please contact sales@ironmind.com.
*excludes packages, sets, kits and combos that already have discounted pricing, as well as York equipment.
Tools of the Trade for Serious Strength Athletes™ . . . since 1988
Please take a minute to remember those in the American armed forces who gave their lives for our country—we honor them and salute those who continue to protect our health, our homes, and our country, here and around the world.
We also salute those brave Ukrainians, military personnel and citizens alike, who are enduring hardship and danger to save their country and their freedom. You will prevail: Slava Ukraini!