Massive Gains for Mas Wrestling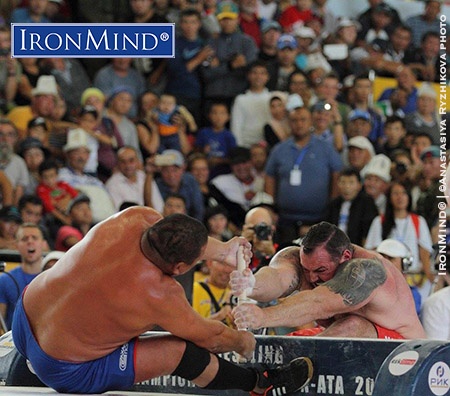 Combine an enthusiastic fight fan, with a special interest in strongman and grip strength, add a dash of Viking, and give him Los Angeles FitExpo to stage something new—we're talking about Odd Haugen, who unveiled mas wrestling in 2013 as one of three strongman combat disciplines in his contest.

Dwarfing not just the pole push and tug of war in terms of spectator appeal, mas wrestling proved to be powerful magnet for fans any time a pair of contestants headed to the board.

Mas wrestling is ancient and universal, and while it requires almost no equipment, it's a superb test of functional strength, Haugen said—it's great for strength and conditioning, and it's a refreshing change from other forms of training, he added.

Haugen heads up Mas Wrestling USA and his team recently returned from the Mas Wrestling World Championships, where 192 competitors from 42 countries competed.

"All went well in Kyrgyzstan," summed up Haugen. "We got two silvers and one bronze. Jacob Finerty won the silver medal in a hard fought and controversial 125-kg final, and Shawn Couch won the silver medal in a tough 90-kg class.   Martins Licis lost a close match in the quarter final to Victor Kobulchuk (defending +125-kg Champion) from Russia, but fought his way back to a bronze medal."

Fueled by his success to date, Haugen is committed to bring mas wrestling to more people—to learn more and get involved, please visit Mas Wrestling USA.

                                                                                   ###



You can also follow IronMind on Twitter and on Facebook.                      



Want to talk grip, strongman, weightlifting . . . everything strength? Visit the IronMind Forum.