Laine Snook Competes in Dubai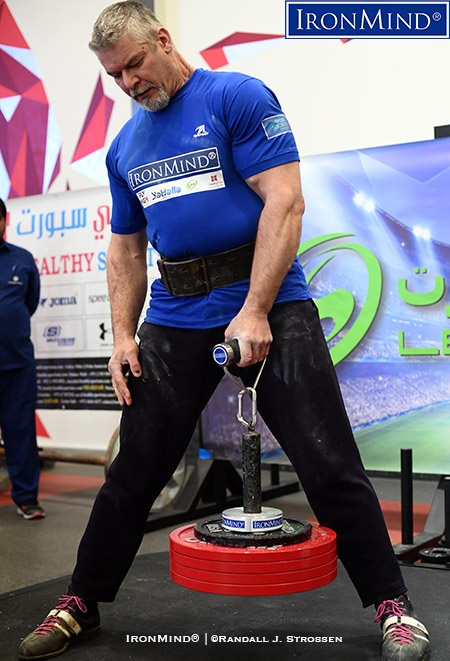 I call him "the yeti of the grip world," and for those who were in Dubai for Bader Alawadhi's (Red Nail '12), grip contest, Laine Snook proved he's no myth as he gamely took a shot at the world records on the Rolling Thunder, the IronMind Block, Little Big Horn and Hub, and while not successful on any of the attempts, it was apparent that Snook's grip is very strong, and then some


Hosted by Marc Van De Haer's Fly High Fitness, with plenty of on-the-ground help from Leader Sports staff, the contest included an amateur division and a pro division—with the idea that this year's event was setting the stage for something much bigger next year.

Establishing his pattern on the first event, after winning the Rolling Thunder with an extremely easy looking 115-kg lift, Snook jumped to a world record attempt of 131.5 kg, but it was not to be. "It's not going to happen," Snook said, when the Rolling Thunder was ripped out of his hand by the weight.

Snook, who turned 50 last year, said he plans to compete for another year or two, before retiring from grip-strength competitions.

Other big news included the debut of Sam Sopolinski, a scaffolder from Western Australia, who appears to be brimming with talent as he came into the contest with only the merest of preparatory training, yet was impressive throughout. At 28, standing just under 7-feet tall and weighing 162 kg, Sam's potential appears to be basically untapped.
Hats off to referee Mikkel Junkuhn Petersen for the maintaining the highest level of professionalism, being both strict and fair.
                                                  
                                                                     ###

You can also follow IronMind on Twitter, Instagram and on Facebook.                       



Want to talk grip, strongman, weightlifting . . . everything strength? Visit the IronMind Forum.