IronMind Videos: Vladimir Smorchkov (105) Snatching 195 kg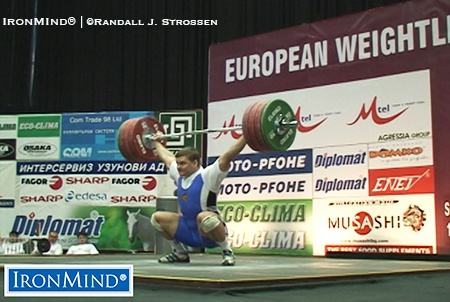 A few years earlier, his last name became a verb in the weightlifting world, but all that aside, Vladimir Smorchkov continued the great Russian tradition of making huge weights in the snatch look effortless.

Vladimir Smorchkov sank the putt on this 195-kg snatch at the 2005 European Weightlifting Championships—part of a six-for-six, three-gold medal performance in the 105-kg category. IronMind® | ©Randall J. Strossen video

At the 2005 European Weightlifting Championships (Sofia, Bulgaria), Smorchkov smoked 187.5, 192.5 and then 195 kg—Wish You Were There? Here's the next best thing:

https://www.facebook.com/480714388675525/videos/896662120414081/

https://www.youtube.com/watch?v=Qiqowb-TNhE


 
                                                      ###



You can also follow IronMind on Twitter and on Facebook.                        



Want to talk strength?  Join the IronMind Forum.