Introducing the IronMind Gold Nail™: When Red's Not Enough
Recently on the IronMind Forum, I initiated a conversation about the Red Nail rules (see posts: #1, #2, #52, #97, #98, #101 for a quick summary).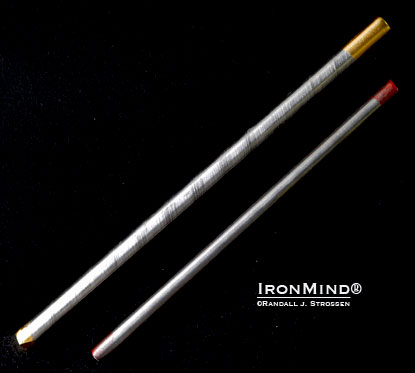 The IronMind Gold Nail is like the Red Nail after doing SUPER SQUATS . . . bigger, stronger, tougher. The Red Nail is 7" x 5/16" and the Gold Nail is 8-3/8" x 3/8". IronMind® | Randall J. Strossen photo.


Along the way, Casey Emery suggested that maybe the IronMind Red Nail™ needed a big brother—hmmm.

So, here it is, the IronMind Gold Nail™ . . . an order of magnitude bigger and badder than the IronMind Red Nail.

IronMind has conducted a quick and dirty test (well, not that quick and not that dirty) on this bruiser and we think it passes muster, but once again we'd like to turn to the steel bending community for additional feedback. IronMind has provisionally decided to add a certification on the Gold Nail to present the challenge and recognize an even higher achievement in the world of short steel bending, but we will await feedback before finalizing the decision.

To help guide this process, IronMind is offering one Gold Nail to each of the five guys who were on the IronMind Red Nail Rules advisory panel (Andy Thomas, Jedd Johnson, David Wigren, Casey Emery and Aaron Corcorran) as well as to the first seven guys to request one (sorry, but only Red Nail Roster members are eligible), with the invitation to tell us what you think about it. To stake your claim, send us a quick email with your name, the year you were certified on the IronMind Red Nail, and your physical mailing address: IronMind Gold Nail—Request.



Short steel: Beefy (IronMind Red Nail) and Beastly (IronMind Gold Nail). IronMind® | Randall J. Strossen photo.

###



Want to comment on this article or just want to talk strength? Join the IronMind Forum!

You can also follow IronMind on Twitter.