How to Relax on Labor Day: Save 15% at IronMind!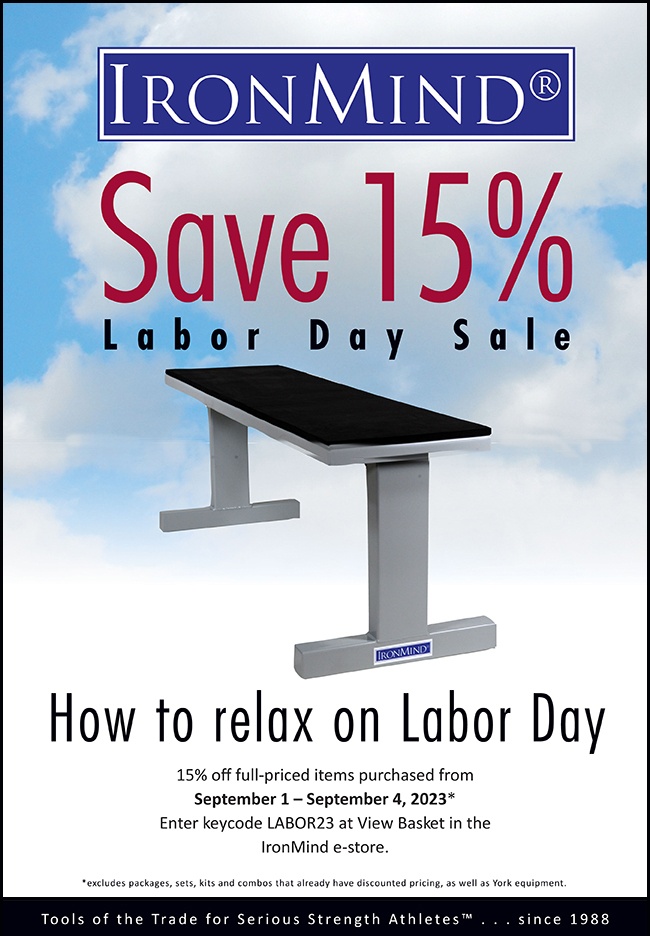 IronMind's annual Labor Day weekend sale starts Friday, September 1, so here's your chance to pick up some essential IronMind equipment while saving money.
Save 15% on full-priced IronMind equipment*: from the Five Star Flat Bench to the Vulcan Squat Racks, Apollon's Axle, and Pillars of Power, plus the Rolling Thunder, SUPER SQUATS Hip Belt, Headstrap Fit for Hercules, Tough-As-Nails Sandbags, Just Protein, MILO issues, IronMind T-shirts and shorts . . . and much more.
Order anytime during the entire holiday weekend, September 1 - September 4, and enter the code LABOR23 in the keycode box at View Basket to receive the 15% discount.
IronMind: Tools of the Trade for Serious Strength Athletes™ . . . since 1988 . . . always made in the USA!
*excludes packages, sets, kits and combos that already have discounted pricing, as well as York equipment.
###


You can also follow IronMind on Twitter, Instagram and on Facebook.
Want to talk grip, strongman, weightlifting . . . everything strength? Visit the IronMind Forum.