Giants Live - London: Strongman Deadlift World Record Assault
Giants Live—the official qualifying tour for the World's Strongest Man contest—will feature an assault on the strongman world record in the deadlift at its upcoming London contest, Giants Live director Colin Bryce told IronMind.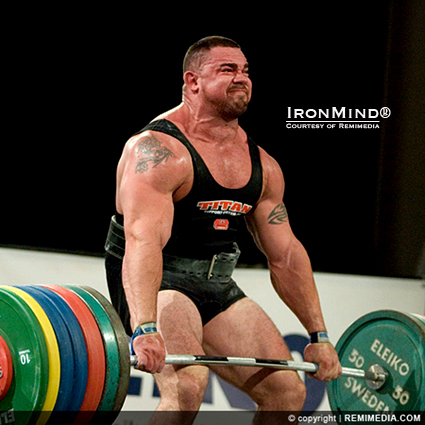 Kevin Nee set what is taken as the standard for the strongman world record in the deadlift with this 410-kg effort at the 2008 Super Series Viking Power Challenge. As big as that number is, Giants Live – London is expected to put pressure on Kevin Nee's mark as some of the top deadlifters in strongman are set to pull at the Excel Centre in March. IronMind® | Photo courtesy of Remimedia.com.


"The opening event is deadlift for maximum weight," Bryce said, with the principal target being "Kevin Nee's strongman world record of 410 kg."

"Strongman rules," explained Bryce, "means that it's a normal-height bar, but straps and hitching are allowed."

In the past, there has been some squabbling about just what should be called a deadlift in strongman and what should go by another name. Bryce's distinction should end such bickering and in this version the athlete locks in with his straps and lifts—no style points are given and there are no rules about the path of the bar to limit how it can be elevated.

"Rumors coming out of East London are that Hollands has done over 430 kg," said Bryce, "and Shahlaie can do a 420. With Derek [Poundstone], Brian [Shaw] and Fe [Mark Felix] there too, it could bring fireworks!"

For full details, please visit the official Grand Prix Expo website.

###


Want to comment on this article or just want to talk strength? Join the IronMind Forum!

You can also follow IronMind on Twitter.