Evan Raftopoulos: New King of Rolling Thunder Pull-ups for Reps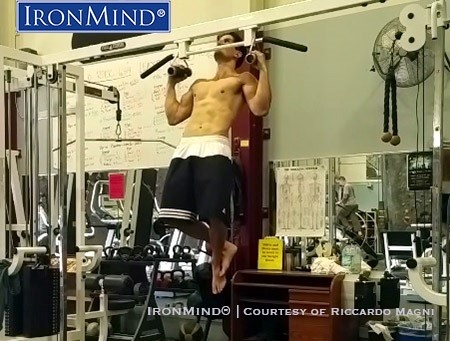 Evan Raftopoulos is a beast when it comes to pull-ups: he can do a 1-arm pull-up hanging on to a Rolling Thunder easier than most people can do a 2-arm pull-up on a regular bar, and if that's not enough to get your attention, he just broke the world record for 2-arm pull-ups on the Rolling Thunder by knocking off 27 reps.


Among other things, Raftopoulos is an OCR, American Ninja Warrior, rock climber and grip contest competitor.  

Many thanks to Riccardo Magni and Mike "Hubgeezer" Corlett, for refereeing this attempt—congratulations to Evan Raftopoulos: you are the proud new owner of the men's world record for 2-arm Rolling Thunder pull-ups.

                                       ###



You can also follow IronMind on Twitter and on Facebook.                        



Want to talk grip, strongman, weightlifting . . . everything strength? Visit the IronMind Forum.