David Webster's 2018 Scottish Heavy Events World Championships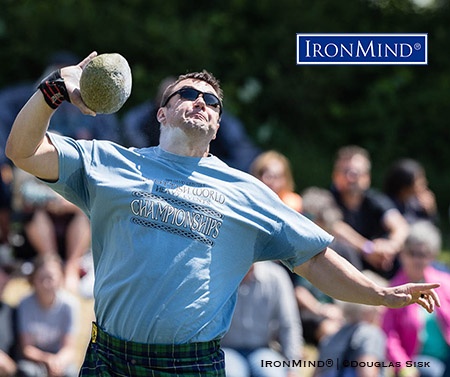 The Webster Worlds crowned a new Highland Games Heavy Events world champion: Chuck Kasson.


David Webster's 2018 Scottish Heavy Events World Championships

by Steve Conway, Athletic Director, Caledonian Club of San Francisco

Victoria, Canada provided a fantastic backdrop for the 2018 Scottish Heavy Events World Championships. Athletic Director Ray Siochowicz organized a top notch event utilizing a seasoned crew of judges and field help. Also, on hand was David Webster O.B.E. to oversee the competition, Judge Steve Conway was in charge of the action on the field.

The competitors were picked as the best in the world:

Josh Goldthorp – Canada
Damien Fisher – USA (Damien replaced Spencer Tyler who had to withdraw)
Rob Young – Canada
Sinclair Patience – Scotland
Lukasz Wenta – Poland
Lorne Colthart – Scotland
Dan Tennison – USA
Matt Doherty – Canada
Vlad Tulacek – Czech Republic
Chuck Kasson – USA
Scott Rider - England

Day one saw a very tight battle between half of the group with 3.5 points separating the top 4 and number 5 only 4 points behind them. Canadian Matt Doherty jumped into an early lead with a 2nd in the Braemar stone of 38'0", a 1st in the 56 dist. of 42' 8" and a 1st in the light hammer (setting a new field record-142'10-1/2 ") but then he faltered a bit in the wt/ht and caber finishing the day with 18.5 pts. Lukasz Wenta from Poland was strong in the first 5 events with 3- 3rds, and a 2nd but had a disappointing 7th pl. finish in the lt. hammer, leaving him with 18 pts. barely ahead of Matt Doherty.

USA's Chuck Kasson, throwing with a sore knee had a steady day with a 2nd, 2- 3rds and 2- 4ths. which put him in 1st place with 16 pts., proving that you don't have to finish 1st in all the events, a solid performance can propel you into the lead. By comparison, Vlad Tulacek from the Czech Republic had 3 - 1st place finishes but slipped up with an 8th place finish in the 56 dist. as well as the lt. hammer. Leaving him in 4th place with 19 points.

Veteran thrower Scott Rider from England was only 4 points behind Tulacek, it was a somewhat surprising 7th pl. in the Braemar stone that pushed him down in the order; Scott usually excels in the stone putt events. Lorne Colthart from Scotland led the rest of the group, day two promised to be an interesting day.

The Open stone was the lead off event on the second day and Vlad Tulacek proved to be the best with a putt of 54' 1-3/4" followed by Lorne Colthart with 52' 11-3/4" and Lukasz Wenta with 52' 4-3/4", Scott Rider was 4th with 50' 3". The leader Chuck Kasson would have his worst finish of the competition with a disappointing 7th place knocking him out of 1st place with Vlad slipping into the lead.

Next up was heavy hammer. Matt Doherty was looking to gain some ground but he had to settle for 3rd with a throw of 112' 2-1/2" just ahead was Chuck Kasson with 113' 8" and only a foot ahead of that was Vlad tulcek with 114' 8-1/2". It was looking good for Tulacek but now Kasson was breathing down his neck. Wenta finished 4th and also kept himself in contention for the lead.

The last event of the competition, the 28 dist., would be the one that decided where the top 4 would ultimately place, it was anyone's guess at this point with the top 3 positions changing in every event.

First round of the final event, the 28 lbs. wt. for distance, everyone starts with a throw in the mid to upper 70's except Chuck Kasson who fouls out the side of the trig. Now the pressure is really on, Lukasz Wenta takes the lead on his second throw with 79'6". Chuck Kasson answers with an 81' 1-1/2" clutch throw putting him in first. Vlad Tulacek struggles to get a best throw of 77'7" in the third round, Lukasz fails to improve, Chuck Kasson improves to 84' 4-1/2" to win the event and claim the title of World Champion! Great competition, congratulations to all!

Chuck Kasson – 25 pts.
Vlad Tulacek – 27 pts.
Lukasz Wenta – 29 pts.
Matt Doherty – 31.5 pts.
Lorne Colthart – 39.5 pts.
Scott Rider – 40 pts.
Damien Fisher – 54.5 pts.
Josh Goldthorp – 65 pts.
Rob Young – 67 pts.
Sinclair Patience – 73 pts.
Dan Tennison – withdrew with injury

                                                ###



You can also follow IronMind on Twitter, Instagram and on Facebook.                        



Want to talk grip, strongman, weightlifting . . . everything strength? Visit the IronMind Forum.