Brian Shaw Wins Big at World Strongman Super Series: Takes Swedish Grand Prix and Overall Title
"[It was a] very dramatic finish with Brian Shaw pulling off a come-from-behind win in the WSM Super Series Sweden GP over Stoyan Todochev in the final event," dotFit's Odd Haugen told IronMind®.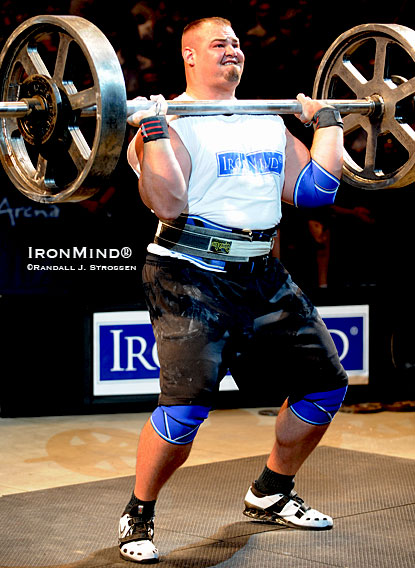 Brian Shaw has had a big year: This is a file photo from the 2009 Giants Live Mohegan Sun Grand Prix. IronMind® | Randall J. Strossen photo.
"Brian also wins the 2009 dotFIT Worldstrongman Super Series World Championship, the $10,000 bonus and the championship belt," said Haugen.

Here are the official results from the World Strongman Super Series Swedish Grand Prix:
| | | |
| --- | --- | --- |
| 1. | Brian Shaw | 27.50 |
| 2. | Stojan Todorchev | 27.25 |
| 3. | Jason Bergmann | 25.50 |
| 4. | Krzysztof Radzikowski | 23.25 |
| 5. | Terry Hollands | 22.75 |
| 6. | Nick Best | 18.00 |
| 7. | Johannes Arsjo | 13.00 |
| 8. | David Ostlund | 9.50 |
| 9. | Peter Rundberg | 6.75 |
| 10. | Grzegorz Szymanski | 4.75 |
Here are the official 2009 World Strongman Super Series Final results:
| | | |
| --- | --- | --- |
| 1. | Brian Shaw | 27 |
| 2. | Stojan Todorchev | 24 |
| 3. | Nick Best | 21 |
| 4 | Jason Bergmann | 17 |
| 5. | Johannes Arsjo | 16 |
| 6. | Krzysztof Radzikowski | 13 |
| 7. | Terry Hollands | 10 |
| 8. | David Ostlund | 8 |
| 9. | Paul Parjol | 4 |
| 10. | Rolands Gulbis | 3 |